The start of Honjo Chemical's first production of zinc dust in Japan was successful which led to secure a major share in the market accumulating expertise in this field.
Zinc dust and zinc oxide are in production since the start of the company.
Zinc dust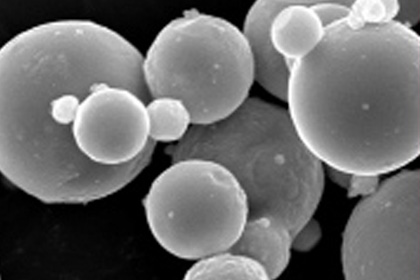 | Product | Average particle size |
| --- | --- |
| Zinc dust | 8±3μm |
| F-500 | 7.5±0.5μm |
| F-1000 | 4.9±0.3μm |
| F-2000 | 4.3±0.3μm |
| F-3000 | 3.7±0.3μm |
Characteristics ・Usage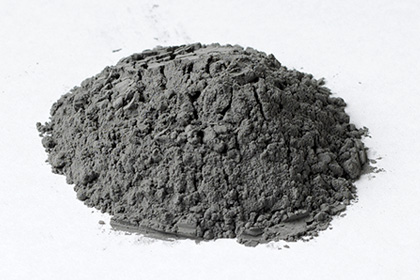 One of the characteristics of our zinc dust is less than 10μm and can change the size of the product according to particle size by applying our exclusive processing technology.
Zinc dust is mainly used in anti-corrosion paints for marine containers and ships, as well as for large buildings; it is also used for specific purpose such as a reducing agent in organic synthesis and desulfurizing in metal refining.
In compliance with increasingly strict environmental regulations, we also offer low Pb and low Cd products.
Product Specifications, etc.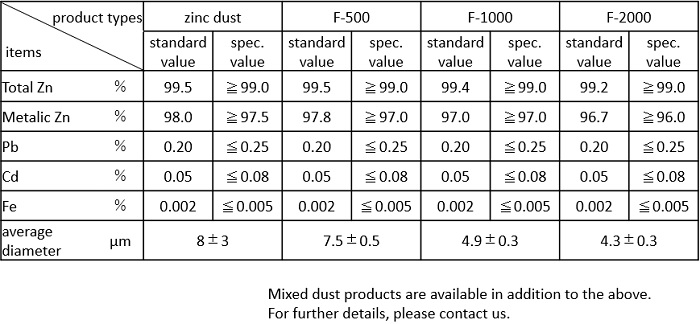 Zinc oxides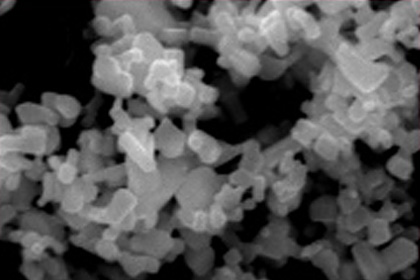 Products
Zinc oxide grade 1
Zinc oxide grade 2
Zinc oxide grade 3
Fine particle zinc oxide
Active zinc oxide NO.1
Active zinc oxide NO.2
Conductive zinc oxide
MMS-7B-4
Characteristics ・Usage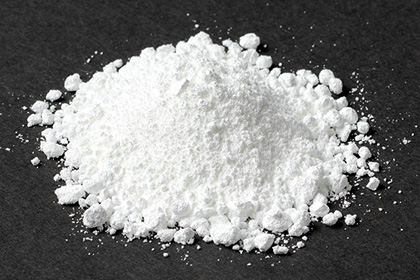 Various zinc oxide products are available based on the French method zinc oxide manufacturing technology.
Zinc oxide is used in electronic materials such as ferrite and varistors, and as a raw material for alkaline and manganese dry cells in addition to the use as a vulcanization accelerator for rubber products.
MMS-7B-4 is now available for use in anti-corrosion paints which is supplied to paint manufacturers.
Product Specifications, etc.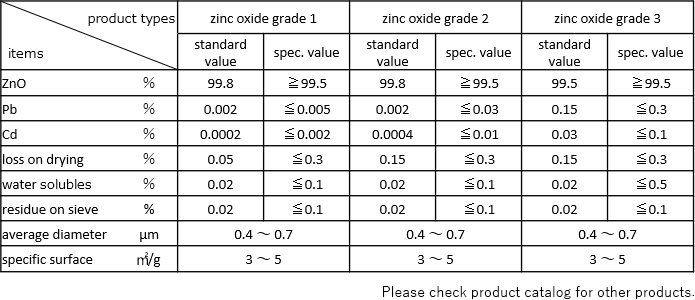 nanoZINC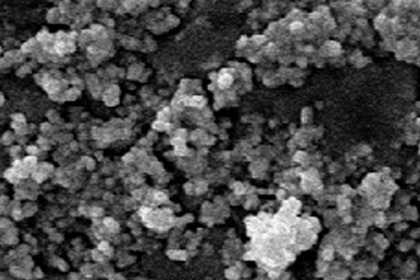 Nano-sized ultra-fine zinc oxide particles are transparent to visible light and have excellent absorption effects against ultraviolet rays when dispersed.
It is widely used in cosmetics, PET films, textiles and others.
Products are available with two different specific surface areas: 60m2/g and 100m2/g.
Chemical purity
| Impurity | Standard value | Measurement |
| --- | --- | --- |
| Pb | 0.001% | AAS |
| Cd | 0.0001% | AAS |
| Fe | 0.0001% | AAS |
Physical property
| | |
| --- | --- |
| Specific surface area | 60m2/g・100m2/g Specific surface area measurement device |
| True specific gravity | 5.6g/cm3 |
Light transmittance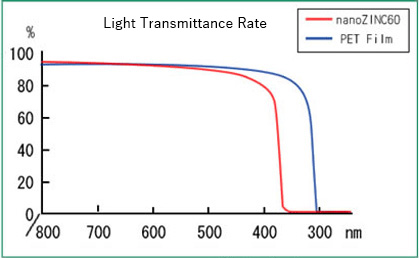 Visibility of the transmitted light is almost transparent.
Ultraviolet rays, on the other hand, show a remarkable absorption at about 380nm which is an absorption edge of zinc oxide. (See left graph).
| | |
| --- | --- |
| Binder | Acrylic resin |
| Coating substrate | PET Film |
| Pigment concentration | 23% |
| Thickness | 5μm |